Town streets honor Belleville officers
killed in the line of duty
Nov. 3, 2016 -- Belleville street signs dedicated to honor the sacrifice of three town police officer and a fire captain killed in the line of duty were unveiled at an event sponsored by Mayor Raymond Kimble and the Belleville Municipal Council, Township Manager Mauro Tucci, Knights of Columbus Council 835, Belleville PBA Local #28, Belleville FMBA Local 29 & FOA Local 229, Belleville Councilman Kevin Kennedy and Tom Grolimond chairman of the Recreation and Cultural Affairs Advisory Council.
---
Belleville street dedicated to fallen
Fire Captain
JAMES SALMON BLVD
Van Rensslaer Street at Washington Avenue
Firefighter
PATRICK F. DUNN
Wilson Place at Union Avenue
Belleville streets dedicated for fallen police officers
MARTIN J. HANLY BLVD
Howard Place at Washington Avenue
JAMES T. SMITH BLVD
Malone Avenue at Union Avenue
KENNETH SANTUCCI BLVD
Chestnut Street at Franklin Avenue
---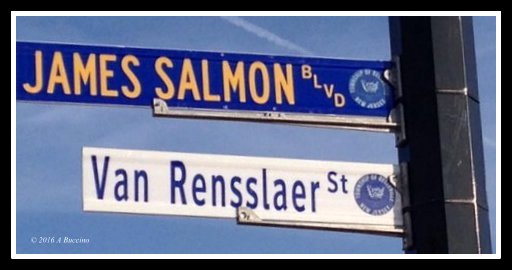 Captain James Salmon
Fire Captain Killed by Own Truck (1916)
Belleville, N.J. – Crushed underneath the wheels of his own truck, which he endeavored to board while in motion, Captain James Salmon of the automobile truck company No. 1, of Belleville fire department, was so seriously injured that he died a few hours later in the hospital.
Captain Salmon was off duty at the time the alarm sounded. He ran through one street in an effort to catch the truck as it passed up another. He motioned to the driver who slowed down for him. The captain, however, did not board in his usual way by catching on to the cowl and swinging to the running board, but waited until he could grasp the ladders at the rear.
The driver did not notice the failure of his captain to board and could not stop the car until the wheels had passed over the man.
Captain Salmon was the first paid fireman in the town, having been appointed by the town council July 1, 1914, shortly after the purchase of the automobile truck.
Prior to that time he had been a member of the volunteer department, being connected with Eastwood Hose Company, which he joined January 3, 1905. He served as president and foreman of Eastwood company.
---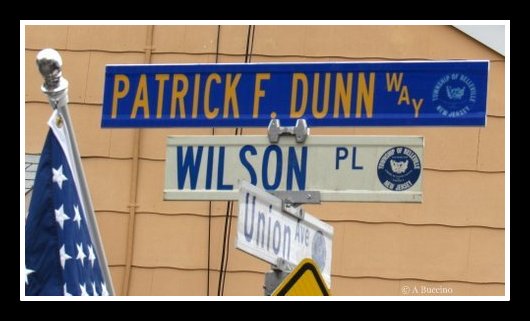 Firefighter died result of Sept. 11 illness. Patrick Dunn became a firefighter at the Belleville NJ Fire Department in the steps of his dad. In the days following Sept 11, 2001, Pat worked at Ground Zero. He passed away 3 1/2 years later of related illness.
---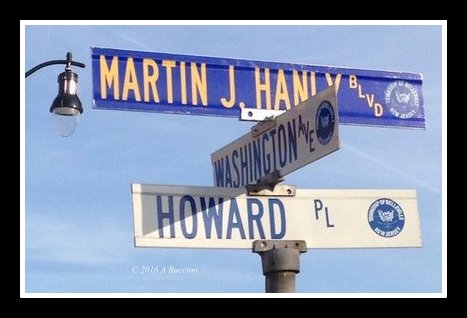 Patrolman Martin J. Hanly
Motorcycle Officer Killed in Traffic Accident
Belleville Patrolman Martin J. Hanly was killed in a motorcycle accident while pursuing a traffic violator on Washington Avenue on Sunday, July, 24, 1927. Another vehicle pulled in front of his motorcycle at the intersection with Rutgers Street, causing a collision. Patrolman Hanly was transported to Saint Michael's Hospital where he succumbed to his injuries.
The driver he was chasing fled the scene. The driver who pulled in front him was charged with manslaughter.
Patrolman Hanly was survived by his wife and five children.
---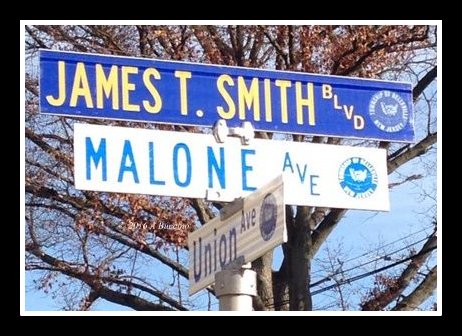 Police Officer James T. Smith
Motorcycle Officer Killed in Traffic Accident
Patrolman James T. Smith on Sunday, May 21, 1950, succumbed to injuries sustained four days earlier when he was involved in a motorcycle accident on Mill Street, Belleville, N.J.
While on patrol, Patrolman Smith's brakes failed causing him to be propelled over the handlebars into the curb, resulting in brain damage.
Patrolman Smith had served with the Belleville Police Department for almost 3 years and had received the Purple Heart for injuries sustained during the Invasion of Sicily while serving with the United States Army. He is survived by wife and daughter.
---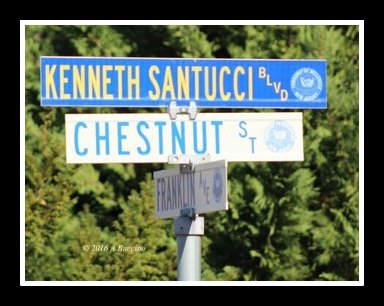 Police Officer Kenneth Santucci
Officer Killed in Traffic Accident Responding to Call
Belleville Police Officer Kenneth Santucci was killed in an automobile accident on Saturday, September 6, 2008, when his patrol car was struck by another vehicle that had run a stop sign. The accident occurred at the intersection of Union Avenue and King Street in Nutley.
He was transported to a local hospital where he succumbed to his injuries. Officer Melissa Corrado, 28, of Hopatcong, his partner was injured and also transported to a local hospital in serious condition.
Officer Santucci is survived by his expectant wife and two children. He had served with the Belleville Police Department for eight months and had previously served with the Newark Police Department for two years.
---
Sources
Municipal Journal & Public Works
NJ.com Belleville Police Officer Killed
Officer Down Memorial Page Martin Hanly; James T. Smith; Kenneth Santucci
---
Memorial Street Signs Honor Fallen Belleville Sons
---
SUPPORT THIS SITE and OUR CONTINUING RESEARCH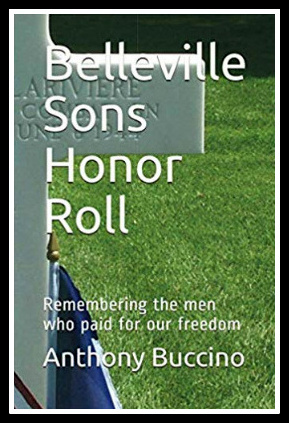 Belleville Sons Honor Roll
Remembering the men who paid for our freedom
In the last century, Belleville lost 157 sons while in service to our country. This collection, gathered from newspaper clippings and other sources gathers what we know about these young men in an effort that their sacrifice not be forgotten.
Belleville Sons Honor Roll includes more information on Belleville actions in the American Revolution, War of 1812, Civil War, the Civil War diary of James C. Taylor, World War I, World War II, Korean War, Vietnam War and peacetime casualties.
Edited by Anthony Buccino
Available on Amazon.