Belleville Sons acknowledges the passing of
George Sbarra, 83, on July 25, 2003.
He was a fire chief, veteran, friend
and so much more.
Chief Sbarra was one of a kind
and he shall be greatly missed.
---
The Belleville Times:
Local man's project preserves
legacy of those killed in war
By Steven DeVries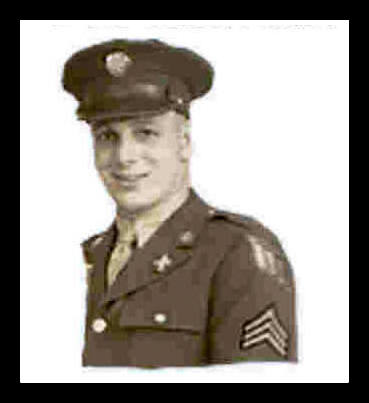 When World War II veteran George Sbarra saw the photos of those from Silver Lake killed in action strewn about the basement floor of his local Veterans of Foreign Wars post, it almost broke his heart.
The Pvt. Joseph C. Taibi Post in Silver Lake was packing up to close, he said - yet another veterans' organization down to an inactive state due to the dropping number of involved members. The images had been mislaid in the shuffle.
"These men deserve better than this," said Sbarra, who collected the soft-light portraits of uniformed young men, most of whom never lived to see the end of the war they were sent to fight.
Sbarra, who was Belleville's fire chief for 35 years, then embarked on; a two-year effort to ensure that those men would never be misplaced again.
With the help of his family, he has created "Remembrance," a portrait 'book of the men from the Silver' Lake and Soho regions who lost their lives in World War II and Vietnam.
Tuesday, he presented one of only two copies of the book to the Shafter Branch of the Belleville Public Library on Magnolia Street. The cost of creating more than two books was prohibitive.
"We knew it was going to be a big undertaking for him," said Angela Immersi, Sbarra's daughter and principal of School 8. She explained that the family has always tackled big projects together, and Remembrance" would be no different. Mary Tritto and Samuel Sbarra, Immersi's siblings, also helped.

The work consisted of re- searching the names of those from the area who were killed, finding out their vital information and circumstances of their deaths, then trying to locate their photographs.
Sadly, a few of those lost had not only evaporated from the community's memory, but from those of their families. Generations had passed and men killed half a century ago had just become names on the family tree, or photographs packed into a box.
However, when some I people were contacted to provide information for "Remembrance," their own interest in family history was rekindled. Immersi said they were very excited to help and worked hard to find the facts on a relative or their picture.
The family's research had them calling as far as Florida and traveling as far as Rutgers University and Toms River.
The people he met along the way helped Sbarra relive a lot of memories from his days growing up in Silver Lake, and his time in the Fourth Infantry Division.
Sbarra acknowledged that "Remembrance" is a way for him to place a mark on the page in American history that is all too quickly turning over.
---
George Sbarra
Second chances for heroism

This week George Sbarra showed Belleville that you don't necessarily get one chance to be a hero.
Sbarra, who served his country in World War II, spent the last two years making sure that the men of his community who died in battles so far from home would not be forgotten. He created "Remembrance," a book that shows the faces and history of those men.
This week, he presented a copy to the Shafter Branch of the library in Silver Lake, where it will be kept for the community's benefit.
He didn't have to dodge bullets to do it, but he acted out of a pure desire to give to some- one else. That's selflessness, and it's the cornerstone of heroism. It's what drives a soldier to throw himself on to a live grenade to save the lives of his comrades, or what impels a firefighter to run into a burning building on the slim-chance that someone may be trapped inside. Sbarra was Belleville's fire chief for over 35 years.
Selflessness manifests itself in many ways, whether it's in the more dramatic circum- stances just mentioned, or in giving two years of one's life to creating a book for someone else's benefit.
So many people take a project on, hoping that it will become their own legacy. But Sbarra worked on "Remembrance" in near silence, and if other people hadn't contacted the media about it, it would have been released unmarked.
What Sbarra discovered during his work was that some soldiers who selflessly gave up their lives years ago were slipping into anonymity forever. That was more than he could bear, so he chose to undertake "Remembrance" for their legacy, not his own.
George Sbarra has spent a good deal of his life showing selflessness. Let us hope that when the time comes to celebrate his life, the community gives as much back as it received.
Posted courtesy of The Belleville Times
Stephen DeVries in The Belleville Times, © May 2003