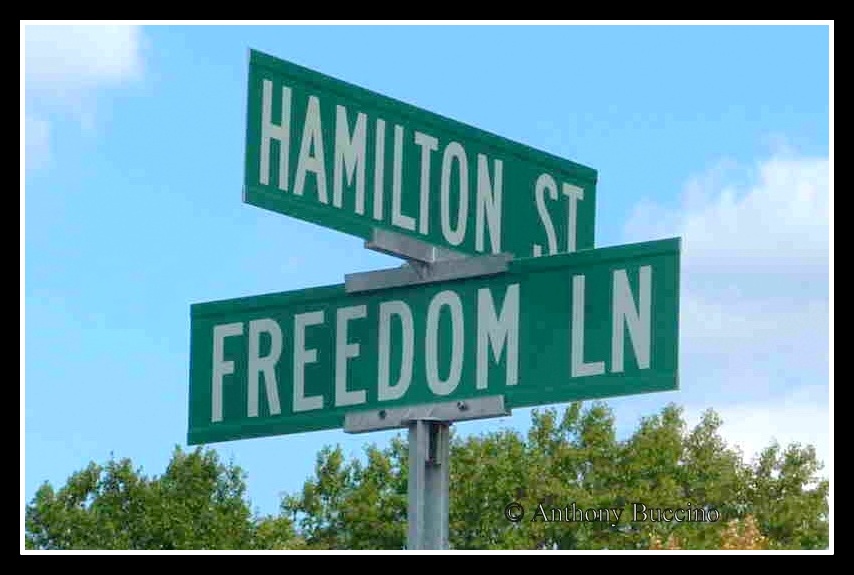 Sgt. William Hamilton killed in action in Germany
(May 3, 1945) -- Sgt. William Hamilton was killed in action in Germany on April 2. He served with the 7th Army and has been buried in West Germany.
Sgt. Hamilton grew up in Newark but lived at 15 Arthur Street for five years before he entered the service in 1942.
He went overseas in February.
The former Arthur Street resident is survived by his wife Pearl and 22-month-old daughter Joyce Pearl; and his parents Mr. and Mrs. David Hamilton.
---
Memorial Services Held for Sgt. William Hamilton
(source & date unknown, newspaper clipping, probably Belleville Times)
Memorial services were held Sunday in St. James Church, Newark for Sgt. William Hamilton, formerly of 15 Arthur Street, who was reported killed in action in Germany April 2.
A war department notification was received by his wife, Mrs. Pearl A. Hamilton of Kearny.
Sgt. Hamilton is also survived by a twenty-two month old daughter Joyce Pearl, and his parents, Mr. and Mrs. David Hamilton of Newark who lived at the Arthur Street address until last November.
His brother, Cpl. Edward Hamilton is with the 5th Army in Italy. Two sisters are Mrs. Thomas Burns of Orange and Mrs. Frank Wunsch of Irvington.
Mrs. Hamilton was notified that her husband, who was a squad leader attached to the 7th Army was killed in Germany and buried with United States forces in West Germany.
He had gone overseas in February, just three yeas after entering service. He was born in Newark but had lived here more than five years before entering service.
A graduate of Boys' Vocational school, Sgt. Hamilton was employed by Tung-Sol Lamp works in Newark in civilian life.
Rev. Perry Olton, pastor of St. James church, conducted the memorial.
Hamilton did not waste his sympathies on the Nazi soldiers. "The Jerries are getting a dose of their own medicine now, and they certainly deserve all they're getting," he wrote in his last letter home.
Besides his parents, he leaves his wife Pearl and a 22-month-old daughter Joyce, of Kearny; a brother Cpl. Edward, 20, with the Fifth Army in Italy, and two sisters, Mrs. Thomas Burns, Orange, and Mrs. Frank Wunsch of Irvington.
---
June 19, 1945
Chaplain's Letter
Dear Mrs. Wunsch,
I am in possession of your letter requesting more information concerning your brother who was killed in action. I am happy to share with you all the facts that I have been able to gather, even though they are meagre (sic).
The battalion was engaged in offensive action against the town of Stein, Germany, north of Heilbronn. Capture of the town was essential to the advance of our troops. It was heavily defended because it was a key position to a huge underground concentration of Germany supplies. William's company pushed off at dawn. While passing through woods on the approach to the town the company encountered heavy enemy artillery and machinegun fire. They halted and called for artillery support and tanks. It was in this woods amid bursting shells and crackling machinegun bullets that your brother was struck down. There were Medical Corpsmen on the spot but there was nothing they could do to save William's life. He died instantly, as I am sure we would all have preferred him to, since it had to be. I might add that the ensuing action captured the town and opened the way for a break-through for our forces. It was his efforts and the work of others like William that gained the victory. He made the greatest sacrifice possible, but, praise God, he did not die in vain. He is buried in the U. S. Military Cemetery in Bensheim, Germany.
May our Lord comfort your heart and heal this shock to your love.
Sincerely yours,
Gordon C. Curty
Chaplain (Capt.)
253rd Infantry
---
Daughter Seeks Closure
Joyce Pearl Hamilton traveled to Germany and met Mr. Albert Rosser in Stein and explained that she was trying to get factual information about her father's death. Rosser researched all in Heidelburg. When Ms. Hamilton returned four months, Rosser told her the skirmish was in Tiefenback, not Stein, according to U.S. records. Rosser also spoke with a 90-year-old man who was THERE in 1945 and he said it happened at a Catholic Church. The U.S. soldiers spent the night in the church, emerged and started up the small grassy embankment where they encountered German soldiers. All the Germans died.
This information coincides with information from Joyce's mother's cousin who was close by & had once told Joyce he saw her father's body.
---
On Dec. 9, 1948, Sgt. William Hamilton was re-interred with a military funeral at Beverly National Cemetery, Beverly, N.J.
---
Belleville renames streets for military heroes
---
Sources
The Belleville Times, May 3, 1945
Hamilton family letters, courtesy Muriel & Edward Hamilton