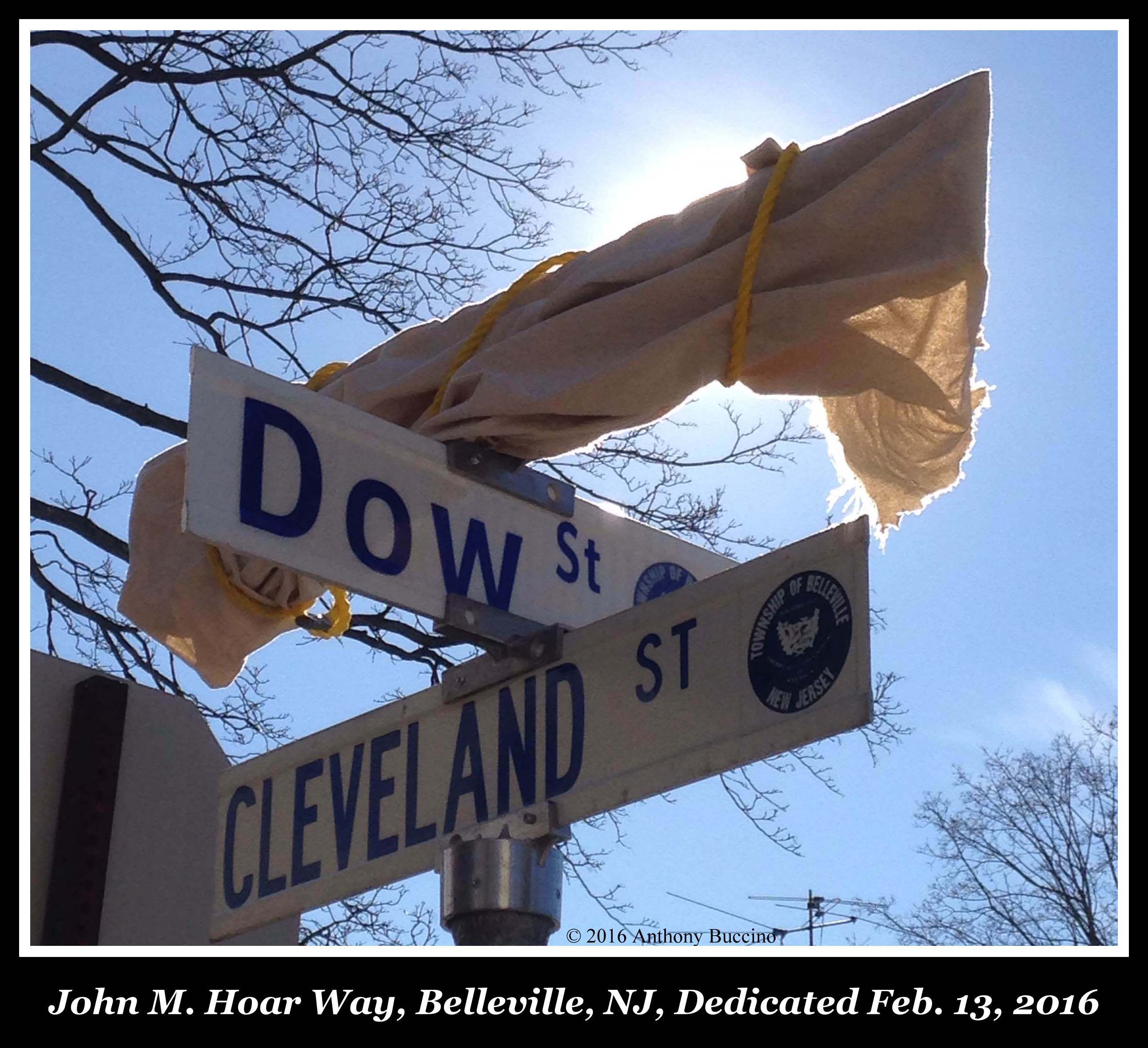 ---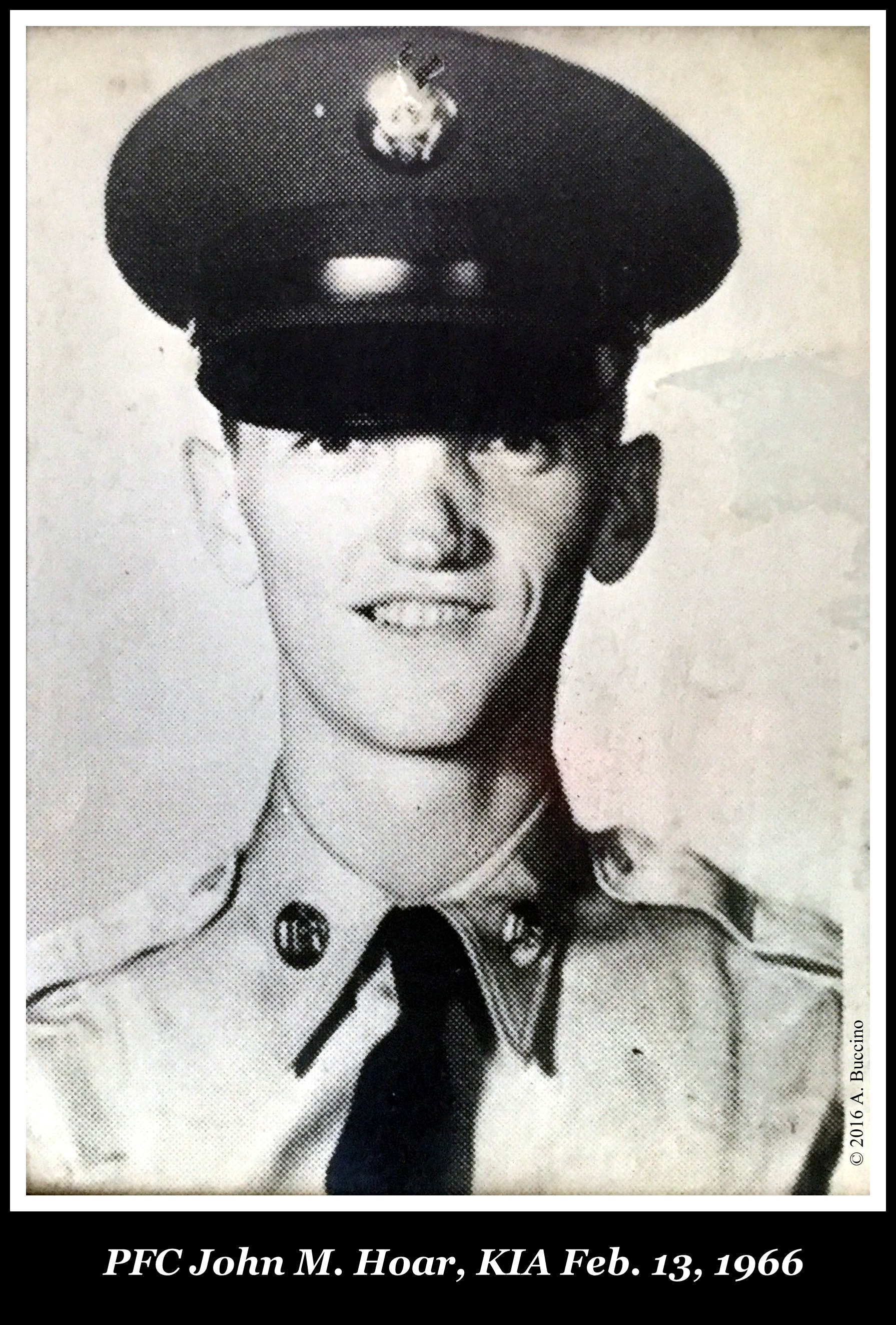 Pfc. John M. Hoar, U.S.A.
(Feb. 24, 1966 - The Belleville Times) -- He's home.
Pfc. John M. Hoar, a slender 20-year-old soldier who marched off to the Vietnam war on Christmas Day 1965, returned home Sunday evening. He became the first (known*) Belleville serviceman to give his life in that far-away conflict which no one understands.
His gray, flag-draped coffin arrived at 9:30 p.m. Sunday aboard a sleek military transport plane which landed at Newark Airport accompanied by Sp. 5 Bob White, a military escort provided by the army for its fallen warriors.
Pfc. Hoar died of a head wound inflicted by soldiers of the Viet Cong during a savage firefight at Bongson, 265 miles northeast of Saigon on the South China Sea.
His death, said an Army telegram from the Defense Department, ''... was incurred by small arms fire while on a combat operation.''
"When we came up here," he wrote before the fight, "we had 15 guys in the squad. Now we have nine. One was taken sick, another broke his leg, and three others were wounded."
Now Pfc. Hoar himself joins the list of America's honored dead who were killed in action.
He is survived by his grieving parents, Mr. and Mrs. Robert J. Hoar, 80 Cleveland Street, who sit quietly in their second-floor apartment and remember the days when their son was a laughing young man who had the world before him.
His young brother, Robert Jr., a husky 15-year-old, tries to maintain a manly composure but tears dampen his eyes as he tells of his brother's background here in Belleville, and of his adventures as a soldier in a distant land whose very name now takes on a nightmarish quality.
He also leaves a sister, Mrs. John (Mary Beth) Weber of Bloomfield.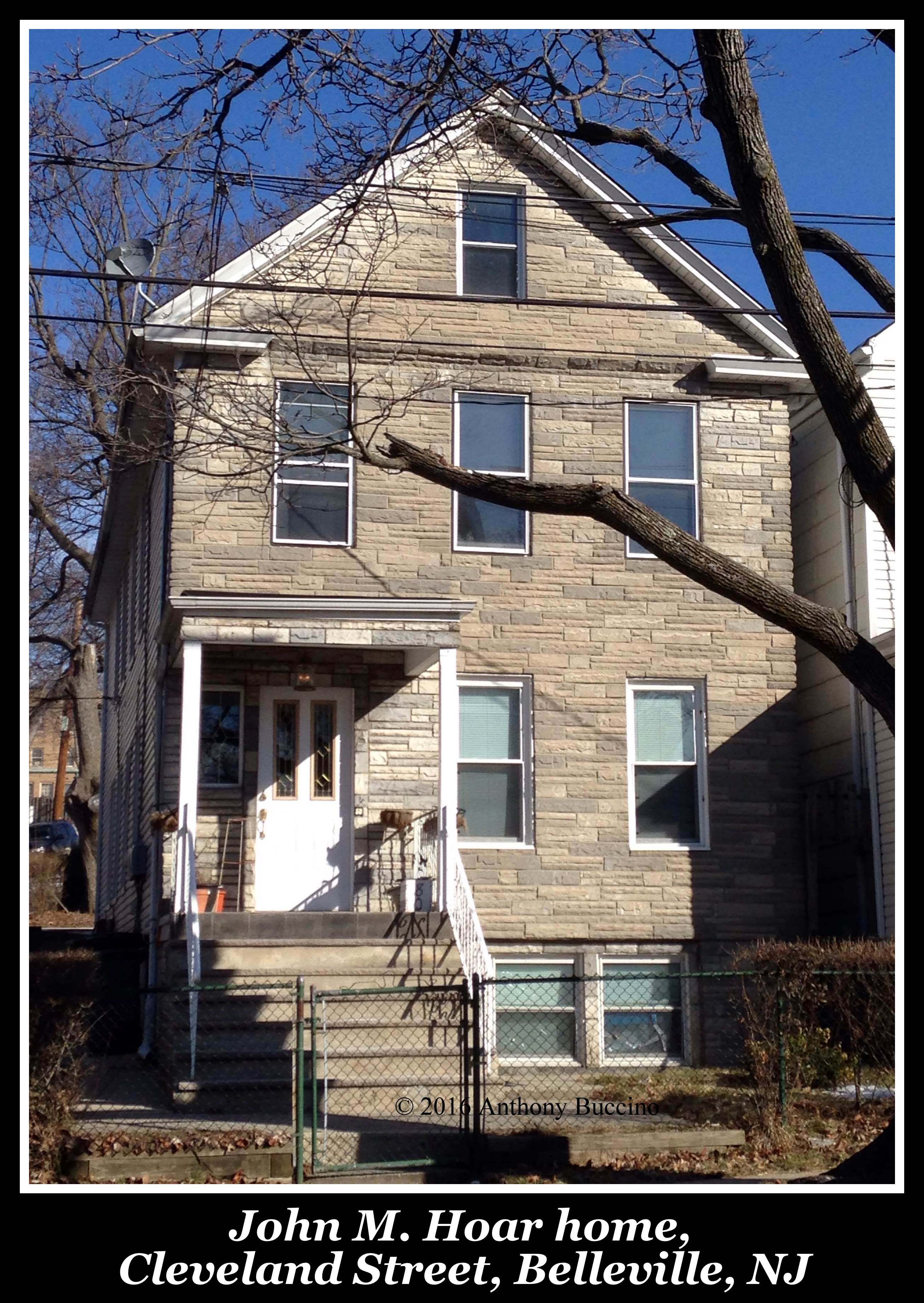 Pfc. Hoar was born on Sept. 17, in Kearny, the first of the two sons and a daughter of Mr. and Mrs. Robert Hoar.
He attended Queen of Peace School, St. Peter's and finally Belleville High School before leaving at the age of 16 while in his junior year.
He took a job with Eastern Tool and Manufacturing Co., here, and had been scheduled for the draft sometime in October.
"But that wasn't good enough for him," said his mother, Mae, "he wanted to serve right away." And with the youthful optimism of all boys, her son managed to have his induction date advanced to Aug. 6.
After soldiering at nearby Fort Dix, a basic training camp where countless thousands of eager, young soldiers have gone before him, Pfc. Hoar and the rest of Company B, who were part of the 1st Calvary Division (Airborne) left for California.
Then, on Christmas Day, the company was marched aboard a military transport and sent to Vietnam. There he took part in the fierce fighting near An Khe Now.
"We went through Hell," he wrote his mother.
But his thoughts, like most American soldiers, were always on home.
"Yesterday," he wrote, "we sat down upon a mountain and looked out at the Pacific and thought of home -- even more than usual.
But Pfc. Hoar will never again be far from home thinking about his loved ones.
He was killed in action the day after writing his last letter.
He had been overseas less than two months.
A Solemn High Mass of Requiem was held yesterday morning at 10 a.m. in St. Peter's Church, attended by friends who mourn his death and parents who grieve for a son lost forever.
Six Belleville servicemen served as casket-bearers for Pfc. Hoar.
"We had to turn others down," said Mrs. Mae Hoar, who added that many other friends had offered to serve. All six servicemen were given special leaves.
A six-man honor guard from Fort Dix shattered the air over his grave with the crack of rifle fire, followed by the sound of Taps which carried far across the crisp February air.
Pfc. Hoar was home.
---
Pfc. John Michael Hoar Killed in Action in Vietnam
Comments Intended at Ceremony
Thank you all for coming out on such a sunny and cold day.
We're here to pay tribute to one of eleven Belleville young men who lost his life in the Vietnam War. Pfc. John Hoar was the second soldier from Belleville to die in Vietnam in seven days. The two boys were the first casualties from our town in that awful war.
Pfc. Hoar was killed fifty years ago today during a night operation in the jungles of Vietnam when his helicopter unit set down in the midst of an enemy battalion.
He lived with his family on the second floor of 80 Cleveland Street, right behind us.
He and his brother, Robert, and sister, Mary Beth, -- both here today -- played on these streets.
He attended St. Peters Church around the corner, then Belleville High school.
He got a job and was called up by the Army. He pushed up his start date. Pfc. Hoar served in-country six weeks before being fatally wounded.
He rests forever in the cemetery at St. Peter's Church.
As The Belleville Times stated in 1966, "He's home."
Belleville and our country must be proud of Private John Hoar. We here today must be proud of him, his service to our country cost him his life. His siblings lost a brother, his parents lost a son. But Belleville lost a brave young man.
God bless you, Private Hoar.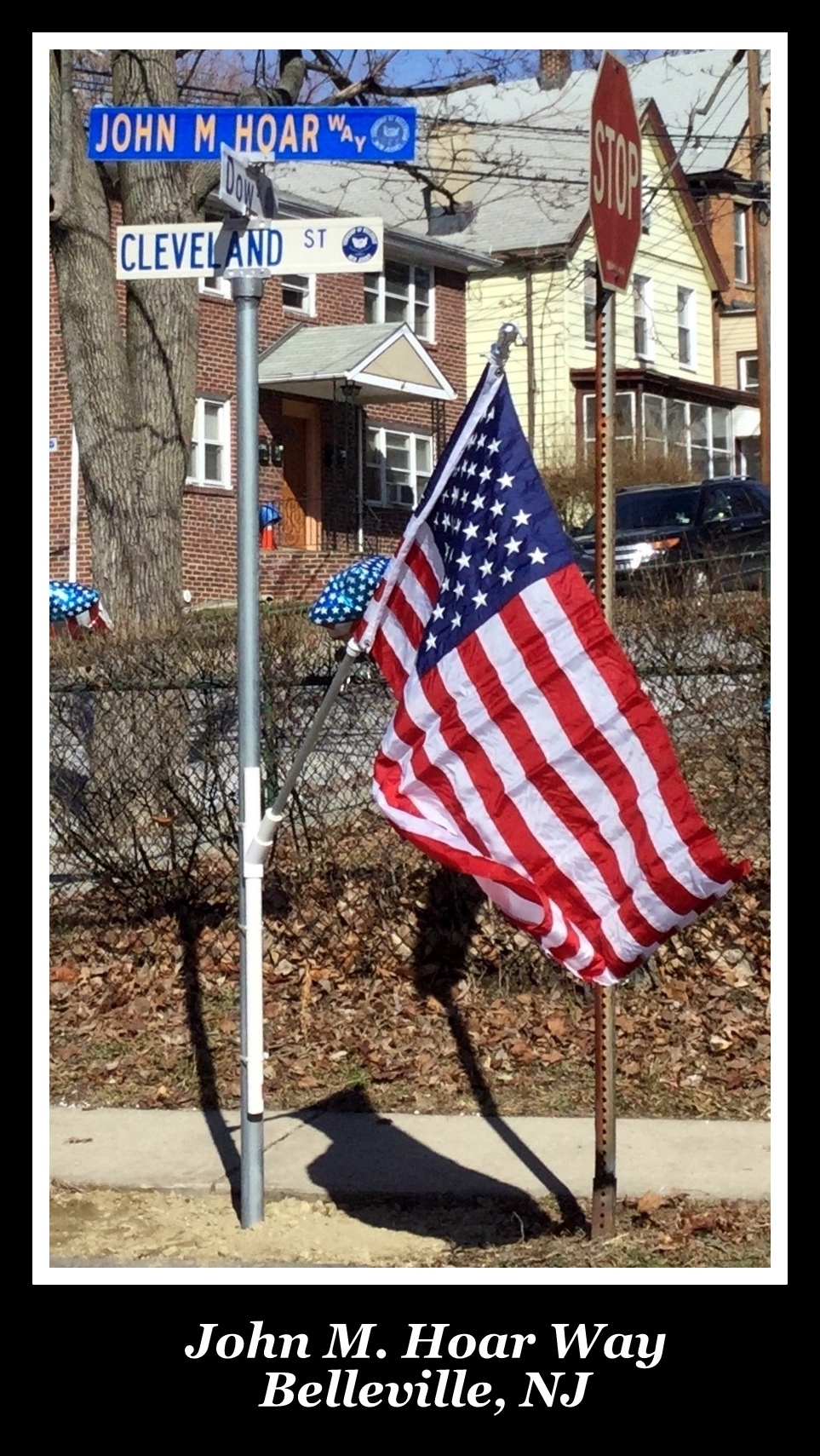 The Observer Dow and Cleveland streets designated John M. Hoar Way for Belleville man killed in Vietnam
---
* Helder Da Silva of Belleville, N.J., was killed in action in Vietnam on Feb. 7, 1966, a week earlier.
---
Belleville to honor soldier killed in action with street naming - The Belleville Times
Belleville held a street dedication ceremony on Saturday, Feb. 13, 2016, at the intersection of Cleveland and Dow streets, in honor of Pfc. John Michael Hoar, who was killed in action in Vietnam on the same date 50 years ago.
---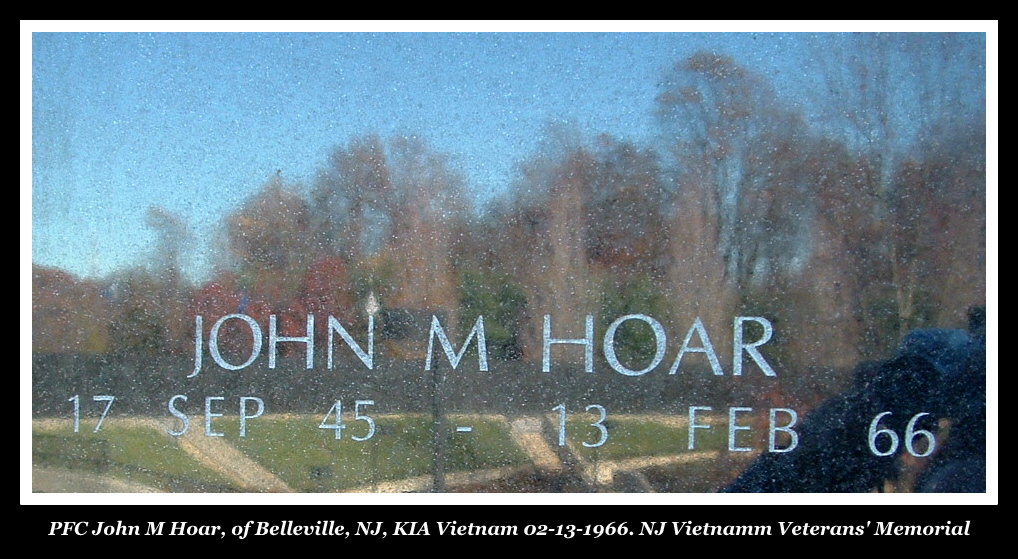 ---
Dean Knox
CO, B/2/12 Cav, John's Unit
Mesa, AZ85206 USA
I was the company commander of B Co, 2/12 Cav, 1
st
Cav Div on the day John M. Hoar died and I remember that day and him so very well even though it has now been 36 years since his death.
Our company was given the mission to conduct an helicopter assault at last light on 12 February and we did just that.
Although not officially recognized as such, it was the first night assault conducted by this new Division of the Army and the assault was conducted by the soldiers of the unit perfectly. We put down in the middle of Vietnamese Cemetery and were immediately taken under intense fire by an estimated battalion of the enemy.
The battle was fierce but we did not budge. Sometime during the night John was wounded but it was impossible to get him med-evacted because of hostile fire.
He died of his wounds early in the morning of 13 February as did a number of his friends and comrades.
I can say that after all these years, my emotions are still uncontrolled when I recall the fine young men who gave their lives doing their duty.
Like those killed on 9/11, all were heroes in their own right and live in my heart.
Rest in Peace John. We will meet again.
Sunday, February 24, 2002
Dean Knox
Unit Commander
---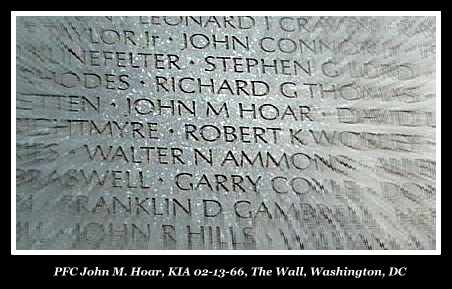 ---
HOAR, JOHN MICHAEL
BELLEVILLE, NJ
Date of Birth: Monday, September 17, 1945
Sex: Male
Race: Caucasian
Marital Status: Single
Branch: Army
Rank: PFC
Serial Number: 51568859
Component: Selective Service
Pay grade: E3
MOS (Military Occupational Specialty code): 11B10
Major Organization: 1st Cavalry Div
Start of Tour: Sunday, December 26, 1965
Date of Casualty: Sunday, February 13, 1966
Age at time of loss: 20
Casualty type: (A1) Hostile, died
Reason: Gun, small arms fire (Ground casualty)
Country: South VietNam
Province: Unknown/Not Reported
---
Sources
The Belleville Times
New Jersey Vietnam Veterans Memorial - Profile
Links subject to change - The Belleville Times articles referenced here are not currently available online.